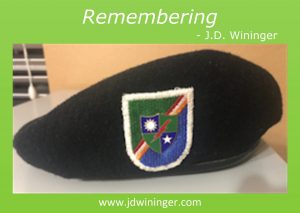 It has sat in my office for nearly forty years now. Always within my field of view; the beret I once wore serves as a solemn reminder. When I stop to look at it, I am taken back to a time when a strong, lean young soldier proudly wore it. Skilled? Perhaps more than some. Brave? Not as much as some may have thought.
Long before the U.S. Army, in its wisdom, decided all soldiers should don a black beret; it held a special place—signifying the warrior elite. It was worn by a group of hardened men who volunteered to subject themselves to whatever was needed to become the very best. They were a group willing to sacrifice everything, one hundred percent and then some, to achieve their objective. Today they wear tan berets; yet that same warrior spirit lives on in each young man.
I sometimes wonder why I keep that old beret around. Perhaps I should place it in a bin with other memorabilia out in the workshop; or with my rucksack and ALICE gear in the storm shelter. My answer is always the same. It reminds me that once in my life I was the very best I could be. I no longer make that statement with the bravado of youth, full of pride or arrogance. It has become the goal of my Christian life. I will never reach my goal to become like Christ in this life, but I must work to become a little more like Him with each passing day.
When this world starts to get the best of me, I pause to look at this old beret. I remember the sacrifice it took to earn the right to wear it; all the challenges I overcame to achieve my goal. Remembering all the pain, anguish, and suffering I endured makes any disappointments I feel these days seem minuscule. I am reminded of the satisfaction I felt that day when a small tab was pinned onto the shoulder of my uniform. I long for that same feeling when I am one day held by my Savior Jesus Christ upon my return home.
On this Veteran's Day, like others, I paused to remember those I served with. I thanked God for the friendships and brotherhood; some of which last to this day. Another thanks is that I'm able to be called a veteran; thanking God He saw fit to keep me safe all these years. It reminds me how I have not yet achieved God's plan for my life. I also paused to remember those veterans I served with who are no longer with us.
How often do you remember to give thanks for all that God has done for you?
Click To Tweet
In speaking with some young people recently, it became obvious that the lines between Memorial Day and Veteran's Day have become blurred. Memorial Day, in May, honors those who gave their lives for our freedom. Veteran's Day honors those who served or are serving in the military to protect and defend our Constitution and way of life. I explained the difference to them and right in the middle of my thoughts entered the Holy Spirit. What He brought to mind is there is one warrior; one man, who fought and died for our freedom and is alive today. Christ Jesus is worthy of being honored on both Memorial Day and Veteran's Day.
While not American, our triune God is the foundation this nation was built upon. This makes Him worthy of being honored in this old soldier's book. Christ sacrificed His human life to save our eternal lives; paying our sin debt. Christ, in death, descended to the depths of hell to win our freedom; and on the third day He arose to take His rightful place at the right hand of the Father. Without question, Jesus Christ, the Son of the living God, is the most worthy veteran this world can ever seek to honor.
As you remember the veterans who mean so much in your life, I ask you to take a moment and remember the sacrifice God has made for you. Please thank Him in prayer for all He's done for us. Remember to show Him the respect, honor, and admiration He deserves most of all.
God's blessings,