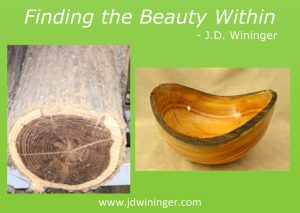 I was overwhelmed with how many commented on last week's post (Even Ugly Has a Purpose) about how God can use ugly; moving me to write this follow-up. As much as I enjoy being a rancher, a long-time hobby is woodturning. I have done little of it since moving to Texas and starting the ranch, but the wood and tools call to me from time-to-time.
I knew the message I wanted you to take-away from last week's post was God has a beautiful purpose for all of us. No matter how ugly we may sometimes seem. His redeeming grace, mercy, and love sees beyond what we are. God sees us as He intends us to be. Boy, did that message resonate with many of you. Your comments confirmed what I think we all feel to varying degrees. God's transformational work in our lives brings out the beauty in each of us.
In the photo above is a piece of a Bois D'arc tree I salvaged when a neighbor was clearing trees. As wood cures, some cracks or splits, called "checking" can appear. While I can avoid some, a good woodworker learns to expect it and how to work around it. On the right is a beautiful turned bowl made by a fellow woodturner in Georgia, Mike "Doc" Davis. This photograph is the perfect way to illustrate what Paul meant when he penned Ephesians 2:10 (NKJV), "For we are His workmanship, created in Christ Jesus for good works, which God prepared beforehand that we should walk in them."
With its natural edge, clean lines, and satin finish, the bowl shows us how a rough, hard piece of wood that spent its lifetime producing ugly fruit can become beautiful and useful with the right touch. I see this as an example of what God can do with each of us.
What beauty lives inside of you; awaiting God's masterful touch to bring it out?
Click To Tweet
Saved from being tossed on the burn pile and destroyed, what might the piece of salvaged wood pictured above become? I'm not sure yet. Perhaps a set of salad bowls for our home, a set of salt and pepper shakers, and a bottle stopper or six. And for the small pieces left over? Just like in God's kingdom, nothing will be wasted. Pens or even a segmented bowl is possible.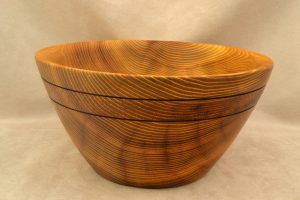 One thing that draws me to woodturning is how we start with a piece of wood and a general idea, but let the wood guide us as we work to transform it. Until I am finished, the real beauty of a piece patiently waits to be revealed. I pray you too wait to see all the beauty God plans to reveal in, and with, your life.
Special thanks to "Doc" Davis (https://www.docswoodturning.com/) for allowing me to feature some of his amazing craftsmanship using Bois D'arc / Osage Orange wood. Photos used with permission.
God's blessings,