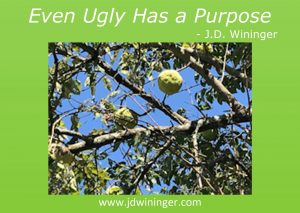 If you see a cow frothing at the mouth, slobbering all over themselves, and chewing for all their worth, you know they've found one. Every year, late summer or early fall, they arrive. Without question, the ugliest fruit I've ever seen. Horseapples! Native to the Great Plains, the horseapple is the fruit of the bois d'arc (pronounced bodark) tree. Up north, in places like Iowa, they're called hedge apples, and the tree is the Osage orange, named after the Osage Indians. In my neck of the woods, we have the Bois D'Arc Bash, a local festival in the nearby college town (Texas A&M-Commerce) each fall to celebrate the ugliest fruit in Texas. It occurs a few weeks after our Cotton Harvest Festival. Texans like a good party, and we can find any reason to celebrate—even ugly fruit.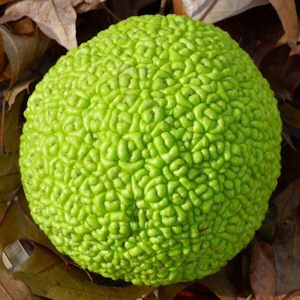 About the size of a grapefruit, with a yellowish-green color, thick hide, and covered with the worst case of "pimples" I've ever seen, is the horseapple. The wood of the bois d'arc tree has long been a favorite for fencing, etc. (it's hard as a rock and insect and fungus resistant). The fruit is only good for young boys to throw at one another (Ouch! Those suckers leave a mark!). Back to my cows.
Cows are curious creatures. And until the fallen fruit softens as it decomposes, it's a threat to my cattle. More than once, I've come upon a cow standing there with saliva all over its face. It can't chew the hard fruit, but it's sometimes too large for them to spit out of their mouth. So, they stand around looking sorry for themselves and hoping someone will come along and pry their mouth open and remove the terrible tasting thing.
The danger to cattle is that if the fruit remains lodged in their esophagus for too long, the cow can't eructate (aka burp) and release its ruminal gases. When that happens, death follows. I wish I could tell you they learn their lesson and never try to eat a horseapple again. Oh well.
Like my cattle, I'm curious too. I researched horseapples and learned that for as ugly as they are, as useless as they seem, God made them for a purpose. The sticky, milk-like juice from the fruit is a remarkable insect repellent, although it sure attracts fire ants. I also discovered a company in Monmouth, IL that pays $180 per ton for them. This company harvests the oil and sells it, where it is used to create natural cosmetics, pharmaceuticals, and essential oils. Imagine. Beauty products coming from something this ugly.
As I thought about the horseapple, and what godly lesson I might learn from it, God brought two scriptures to my mind. Genesis 1:12 (NKJV), "And the earth brought forth grass, the herb that yields seed according to its kind, and the tree that yields fruit, whose seed is in itself according to its kind. And God saw that it was good." This reminded me that God created all things for His purpose. Part of the mystery of life is discovering God's purpose for every living thing.
All of God's creations have value. We just have to find it sometimes.
Click To Tweet
The second verse brought me comfort as I sat there and recited it softly in affirmation. "For I know the thoughts that I think toward you, says the Lord, thoughts of peace and not of evil, to give you a future and a hope." (Jeremiah 29:11 NKJV). It is in the promise of this verse that I know I will one day find God's purpose for my life in Him. I know that I am here today because this is where He wants me to be; and here I will remain until He calls me home.
I don't yet know what God has planned for me, but I know I want to study, work, and grow to become the man He's always intended me to be. I pray you remain steadfast in finding His purpose for your life as well.
God's blessings,