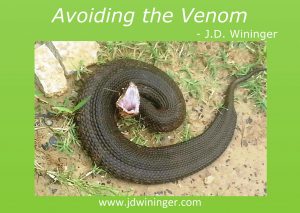 A few days after shoulder surgery, I ventured outside to look at my fur babies (the barn cats), livestock, and visit with my old buddy "Bubba" the chocolate lab. With the nerve block removed and full of "happy pills", it had been a few days since I saw my favorite ranch hand. It startled me when I opened the garage door and saw his eyes swollen shut, infection oozing from them, and one side of his face and throat swollen so much. I knew the cause.
As I reached for my friend, to guide his head with my one good arm, I looked for the telltale signs of a snake bite. Infection oozed from the entire right side of his face. His matted hair didn't allow me to see bite marks. Given this was a weekend with a holiday approaching; I knew calling my vet would be futile. I called one of my friends from church to please come and try to help me save my friend.
Unsure of what snake Bubba tangled with, I knew by the amount of damage it had been a venomous one. In Texas, we describe an unidentified venomous snake as a copper-mouth-rattle-head-cotton snake; the three most common varieties found in these parts. In using that term, my friend Mr. Donnie knew it was serious and came right away. My poor friend Bubba was suffering. His low whimpering made me cry as I tried to get a harness on him so we could work. His throat so swollen his collar choked him.
When Mr. Donnie arrived, he donned latex gloves, and we began to try to clean Bubba's face enough to verify this was a snake bite. My pal cried out in pain as we tried to remove the dried, icky, infection from the side of his face and his eyes. The more we tried to clean, the more damage we could see. The venom caused all the hair to fall out on the right side of his head. Each time we applied pressure to the area, more infection oozed out.
Eventually, I found fang marks high on the right side of his face, not too far from his eye. Given the distance between the fang marks (about 1.75 inches), I estimated the snake to have been between five and seven feet long. That eliminated a copperhead (they're shorter). We guessed it to be a cottonmouth/water moccasin or a ground rattler. In either case, I knew it was bad and suspected a significant amount of deadly venom had entered my buddy's system.
Weighing in at just over one hundred pounds, I knew Bubba had the mass and was strong enough to survive this. Snake bites are a common occurrence here on the Cross-Dubya ranch. I often see my cows with a large knot on their leg, quite often a snake bite. I don't think this was the first time something bit Bubba (I've seen him feasting on dead snakes in the past); I knew this was a bad one.
The only thing I could do was keep applying Vetericyn™ to the wounds, give penicillin and Benadryl™ rolled up in cheese, pray, and wait. As I was praying for my pal Bubba, I couldn't help thinking about how the venom was coursing through his system. I asked God to protect my furry friend from any permanent damage. Depending on the venom introduced to his system, I watched for signs of neurological or tissue damage. These signs would help me develop a more effective treatment.
After six days, my friend was getting back to his old self. He was ready to ride in the ATV and look around the ranch, eat, and could sleep. I thanked God for his mercy, looked for signs of the monster snake (with snake shot at the ready), and hoped Bubba has learned to leave those pesky snakes alone.
My thoughts turned to the sinful human nature that still lives in me. Just as Bubba's system fought against the venom's effects, my faith-driven spiritual nature is always at war with my human nature.
I prayed God help me strengthen my godly nature so it would grow stronger than the poisonous human one I was born with. Paul's words of Romans 7:15 (NKJV) rang in my heart. "For what I am doing, I do not understand. For what I will to do, that I do not practice; but what I hate, that I do." God reminded me I am not alone in this struggle to put my faith into practice. We all give way to our carnal, human nature from time to time. Perhaps this is purposeful in God's design so we learn to apply the free will He created in us to deny ourselves and choose Him.
How do you protect your mind from poisonous thoughts?
Click To Tweet
Speaking for myself; I often make judgments about another's dress, conduct, speech, or other cues. These cause me to internalize thoughts that are not very godly sometimes. Too often, these thoughts lead my actions on how I treat that person. I shy away from them. I become short and to the point, rather than engaging with them. These are human reactions; and I must admit I have them more often than I would like.
My prayer for both me and you (if applicable) is that the Holy Spirit helps us strengthen His nature in us so it becomes our best defense against ourselves. I pray we can each avoid spreading the venom of this fallen world.
God's blessings,