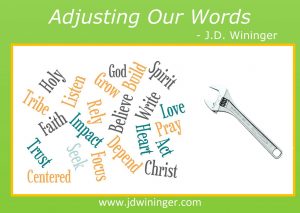 I've received many blessings since starting my journey to become a Christian writer. All the wonderful writing friends God has brought into my life is among the greatest. Their encouragement, guidance, counsel, and especially their prayers hold a special place in my heart. I pray daily for my "Writing friends, editors, and publishers." Each morning, I also pray God sends a special blessing to each person who reads the words He leads me to write. I pray they encourage them to find a closer relationship with God.
For the past few years, I asked God to provide my writing friends with His inspiration and guidance so their efforts will find success. What I didn't consider is that success is defined many ways. For some, success is seeing their name on a byline or book cover. Others define it as signing a publishing contract. Yet others seek the elusive fame and fortune that all writers start out believing they'll achieve.
During my "God time" on June 14th of this year, He prompted me to adjust my words to pray for something other than success. Since success can be defined in lots of different ways, God wanted me to change to the way He defines success. The word I was led to is Impact. I believe the purpose of Christian writing, in its simplest form, is to show God's light in this darkened world we inhabit. My friend Mrs. Audrey Frank (https://www.audreyfrank.com/) coined the term Writers of Light in an article a year or more ago to describe Christian writers. I've shortened it to Light Writers, as I believe this is the goal for each of us. As Christian writers, I think success is defined as our words having the positive impact in this world God planned for them.
What God is teaching me is to adjust my words to better represent Him. He has shown me that every word I think, speak, or write reflects Him in the world around me. Every word has an impact, positive or negative, on the testimony of my Christian faith. I've long held onto an acrostic that reminds me of how I am to T-H-I-N-K before I say or write something.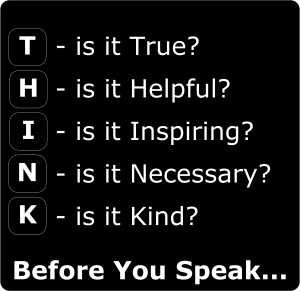 True. Is what you are about to say, or write, the truth? If not, then don't say or write it. If you're not sure, don't use it. Words can hurt, so choose them carefully. Even though it might be true, it doesn't mean you need to say it. "Lying lips are an abomination to the Lord, but those who deal truthfully are His delight." (Proverbs 12:22, NKJV)
Helpful. Is what you are about to say or write meant to help or harm? Will your words bring about healing? Even if they're true, if they don't help, don't use them. "There is one who speaks like the piercings of a sword, but the tongue of the wise promotes health." (Proverbs 12:18, NKJV)
Inspiring. Is what you are about to say or write going to lift someone up or tear them down? Are your words humble or haughty and self-important? Are you sure? "A prudent man conceals knowledge, but the heart of fools proclaims foolishness." (Proverbs 12:23, NKJV)
Necessary. Is what you are about to say or write necessary? Are we seeking to help or inspire someone, or to impress those around us? "A man shall eat well by the fruit of his mouth, but the soul of the unfaithful feeds on violence." (Proverbs 13:2, NKJV)
Kind. Is what you are about to say or write kind? "And be kind to one another, tenderhearted, forgiving one another, even as God in Christ forgave you." (Ephesians 4:32, NKJV)
How has God caused you to change the way you think, speak, or write?
Click To Tweet
One of my favorite quotes from Plato is; Wise men speak because they have something to say; fools speak because they have to say something. I pray we always remember to apply a godly filter to everything we write and speak. As Light Writers (thanks again Ms. Audrey), our words and voices plant seeds for His kingdom.
Know I pray daily for each of you. I pray your words sow the seeds of God's love in this world and achieve the impact He has planned for them.
God's blessings,