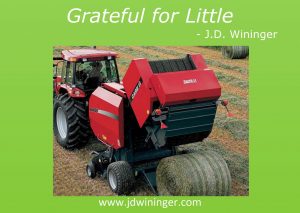 Have you heard, or used, the expression; Something is better than nothing? Try telling that to a farmer or rancher who gets less than one-third of his normal harvest. This year, because of much more rainfall than normal winters and springs, the hay harvest at the Cross-Dubya ranch was delayed by two months. This resulted in losing all of our rich clover and most of the winter rye grass, which headed out and started to wither. It reduced our normal four large round bales per acre harvest to just over one bale per acre.
As we began cutting the hay, I thanked God for the window in the weather. It takes a few days to lay the hay down, let it dry, rake it, and then bale it. Getting five days in a row without rain was a rarity this spring. Three days since any rain had fallen and there were still areas of our fields with standing water. I knew I would get less hay than normal, but prayed I would at least have a large enough harvest I could feed my livestock this winter.
As I looked at the size of the rows coming from the rear of the cutter, then at the combined windrows as I raked them together, my heart sank. I knew I would buy hay again this winter. Last winter, when little hay was available, the law of supply and demand came into play and hay was two or three times its normal cost. In fact, it was more cost effective on my ranch to increase the amount of feed each day to supplement the lack of good hay.
As I sulked about the poor harvest for a few days, the Holy Spirit prompted me to look at things from a different perspective. He reminded me that while I only harvested a small portion of my crop; I wasn't being thankful for it. Thinking about that, I realized that if the weather hadn't broken when it did, I would have suffered a total loss if delayed another week. With all the rain, I expect the late spring and summer grasses to have a banner year for growth. That means multiple hay cuttings are possible and the hay supply should be plentiful later this year.
While still disappointed in my harvest, I was more disappointed at my pessimistic attitude and my ungratefulness towards God for all He provided. In that moment, I knew what I needed to do. I bowed my head and begged forgiveness. God showed me, in His loving way, that my expectations, desires, and dreams are not His. He wants me to be grateful for all things in my life, not just when He gives me what I want. God reminded me that the harvest is His, and that He has always provided for me. My job is not to let my expectations get ahead of His plans for my life.
During my prayers, God brought 1 Thessalonians 5:18 to the forefront of my mind. "in everything give thanks; for this is the will of God in Christ Jesus for you." With joyous tears streaming, I had one more thing to thank God for; His patience and willingness to help me learn the lessons He needs me to have so I might grow to become more like Him.
What prevents you from being grateful in all things?
Click To Tweet
As God's lessons sometimes are, this lesson on gratefulness and thanksgiving was a hard lesson for me to learn. Perhaps God makes them difficult because He wants us to remember the high cost for not learning them when He offered them earlier. I pray you allow Him to bring you the lessons He needs for you to learn the first time. Remedial learning hurts.
God's blessings,