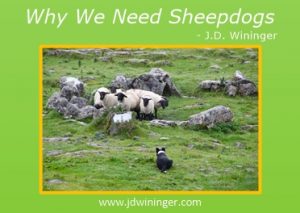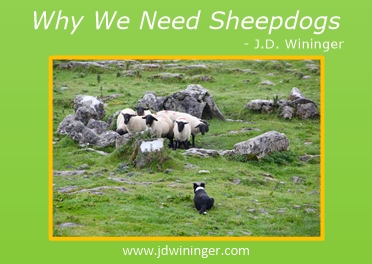 Reading my friend Pauline Hylton's new book, Growing in Christ… from the ground up, led me to think about sheep these past few weeks. I'm a cattle rancher in the heart of cattle country, but there are sheep in the area. I think of them as 4-H projects or lamb chops for Diane. Just as I use donkeys to watch over and protect my calves, you can't think of sheep without a sheepdog.
Following the tragedies in El Paso, TX and Dayton, OH, along with too many others in recent years, there were immediate statements by political pundits on all sides. Before news of these tragedies could even sink in, before prayerful amens uttered, the talking heads were in full force. They made immediate demands for more gun laws, removing weapons from American citizens, funding BILLIONS of dollars more for mental health care, ad nauseam.
A few days after these tragedies, a dear and much-respected writing friend supposed we consider satanic forces (evil spirits, possession, etc.) drove the shooters to their acts. I couldn't agree more; believing much of today's diagnosed mental illnesses are, at their core, evil forces at work in someone's heart, mind, and soul. In responding, I agreed with her assessment and shared some of my thoughts. I am led to offer some of them with you here.
My firm belief is that the more secularized our nation and the world becomes, the more evil and violence we will see. The more this world attempts to remove God and His natural laws from society, the more evil will take root. I expressed my dismay that others choose not to see that correlation.
Today's violence in America is not a gun or mental health problem, it's a heart problem.
Click To Tweet
My sweet friend is not old enough to recall this but I offered them as my example for her consideration. I stated that in the 1950s and 60s, the United States of America did not have stricter gun laws; we had a better moral character and respect for the sanctity of life. As children, we played cops and robbers with stick guns or cap pistols. We chased make-believe bank robbers or thieves, seeking "… truth, justice, and the American way" (thanks Superman™). Evil and violence happened, innocent people murdered, but nothing near the scale of what we see today. And when they did, they weren't plastered all over every news outlet in the world.
Looking at today's world and comparing it to the times I grew up in (not that long ago), I see a very different landscape. In my lifetime, I've seen "abortion on demand"—the taking of millions of innocent lives with children being torn apart and vacuumed out of their mother's womb—become the law of the land. Worse, they do not perform the vast majority of abortions for health reasons, but for convenience.
I look at many of our children's and grandchildren's video games, like Grand Theft Auto, Mortal Kombat, and God of War II. In these games, I see the desensitization of what our nation once viewed as "right and wrong." If all you see and hear is crime, violence, immorality, and death, then it becomes less repulsive to you. It becomes more acceptable in your mind. Our society is inundated with sex, crime, violence, and other sins throughout the media and entertainment outlets. Why? Because that's what some believe "sells." These are the things the secular world wants.
Closing my email to my friend, I stated I thank God I am a sheepdog and not a sheeple. For those of you who may not be familiar with that term, sheeple refers to people compared to sheep in being docile, easily frightened, or willing to follow the crowd, defenseless, or unable to think for themselves. I explained how I viewed my sheepdog mentality as not making me a pariah, or non-Christian, but the hands and feet of Christ in today's world. Christ is the Chief Shepherd (John 10:11), and as His child and a sheepdog in His service, I follow Him. I am not a hireling as I have a vested interest in protecting God's sheep. I am an integral part of His flock.
It's important to note that I serve at the will of my Master, my Shepherd. I view my role as one of His sheepdogs to protect His flock; co-laboring with Him in this task. I stated "If this means I must conceal carry my weapon at church, I will." If the breakdown in society requires I conceal carry my weapon to grocery shop or interact with this fallen world in any place where it's legal to, I will. Christ's church is my Family of Faith, and if I have to give my life to protect theirs, I view that a small price to pay.
I ended by reiterating that I am not an advocate for violence, but know I will one day stand before my Judge at the Bema Seat of Christ. On that day, I don't want to explain how I allowed someone to harm His children (be that my children's Sunday School class or in the sanctuary itself). I cannot sit by, pray for His intervention, or hide trembling and afraid while the "wolf" attacks His sheep.
Military snipers often serve in overwatch positions during a mission. This allows them to have a level of situational awareness their comrades can't. When called upon, a sniper's job is to save lives; it's that simple. Most military snipers, as Navy Seal Chris Kyle's depiction in American Sniper, are introverted, single-minded, deep thinkers, with a burning desire to protect others. As introverts, snipers are often much-maligned by the main line troops. But like society does with firefighters and police officers, we don't think about them much until they're needed.
Some may not agree with the need for sheepdogs, until they need one.
Click To Tweet
Please understand that I am not advocating every American citizen should arm themselves and prepare for battle. Combat is not something any human being should have to endure. But if that's the cost of our freedom, liberty, and safety, then so be it. Every person must prayerfully search their conscious and decide how best to protect themselves and their loved ones. The battle is real, and we must fight it in the spiritual realm if we have any hope for success (Ephesians 6:12).
I hope you join me in prayer for our nation and this world. Pray that we might turn towards our Father who has promised us a life worth living, in Him.
God's blessings,