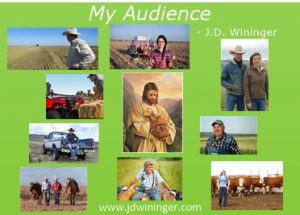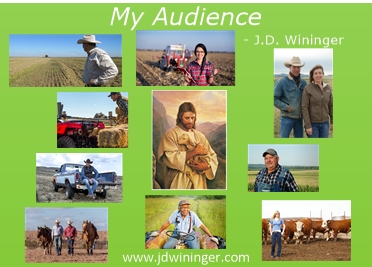 In March, I was blessed to attend the Carolina Christian Writers Conference in Spartanburg, SC. It was a busy two days of learning, wonderful worship, networking, meeting with editors and agents, and making new friends. I left, filled with lots of memories, more people to pray for, a few action items, and a mind full of new ideas and suggestions.
One that stands out for me was to create a collage of my audience. The idea is to place this image in front of me as I write. This visual cue reminds me of who my target audience is; to whom I am writing. As a semi-retired rancher who enjoys my rural lifestyle, I have a pat answer about my target audience. I offer this response almost every time an agent or editor asks.
"My primary target audience consists  of farmers and ranchers across rural America and the world who spend their days working to care for and protect God's beautiful creations. They are mostly Christian, with at least a high school education, family oriented, and range in age between twenty-five and eighty-five."
The speaker who suggested this collage approach is a respected, best-selling author with a wealth of experience, knowledge, and wisdom. What I came to understand is that just as my books and articles change, so must my target audience. When writing about my buddy "Bubba the chocolate lab", my audience includes dog lovers. In writing about cattle ranching, my target is those who work hard every day, dealing with the challenges of raising cattle. Safely moving thousand pound beasts with nothing but their next meal on their minds is a challenge.
As a Christian writer, I recognized some days later my primary target is always God. Since I don't know what God looks like as a physical being, I rely on the closest thing I know to represent Him, His Son Jesus Christ. Everyone else who makes up my target audience may or may not reflect Him. I'm convinced that if I focus my writing to bring glory to God and to please Him with my efforts, then He'll do the rest.
Who do you write to?
Click To Tweet
When I created my Audience Collage to place on my desktop, I placed Jesus Christ front and center. If I keep my focus on Him while writing, then He'll direct my writing to His intended audience, not mine.
God's blessings…