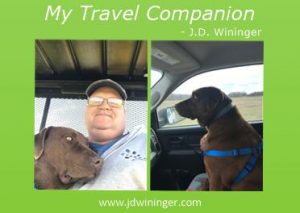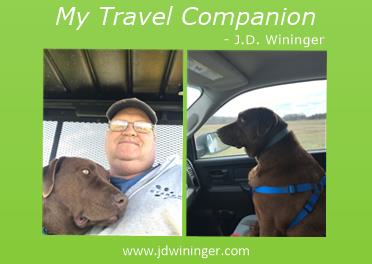 Whether driving around the farm in my ATV or heading to the feed store, almost every trip finds my faithful traveling companion at my side. Bubba the chocolate lab has become a fixture in the seat beside me. In my ATV, he noses his way under my arm and lays his head on my chest. In my pickup, he sits in the passenger seat and intently watches the road. He looks at everything we pass by with interest.
It's comical to watch him turn around and continue viewing the fishermen sitting on the bridge at Brushy Creek as we drive by. Whatever vehicle I'm in, Bubba has learned to wait (most times) for the command to "Load." Upon that word, he quickly assumes his position beside me. When he's taken in the sights, he paws for my hand and moves it into position atop the console. Then he lays down, placing his head on my hand.
As you might surmise, Bubba the chocolate lab and I are close buddies. In fact, he's often my prayer partner. He sits quietly beside me on mornings when we sit on top of our hill and I pray as the sun rises. He senses when I'm burdened and will lie on the seat and place his head on my lap. When joyful, he's playful and nips at my ear or gloved hand.
The fellas at our local feed store get quite a chuckle out of Bubba when I back into the warehouse and go inside to make my purchase. As they're loading sacks of feed or bales of hay into the back, all one hundred four pounds of Bubba climbs on top of my console. From his perch, he peers out the rear window at them, watching their every move. What a sight to see as I emerge through the door and Bubba walks around in circles on top of my console.
Sometimes I go to appointments, shopping, or run other errands where I don't want to leave him alone for that long. On those days, I bring him a Milk Bone™, tell him to take care of mama, and I leave him looking forlorn in the driveway. Upon my return, he's always the first one to greet me, dancing and running in circles as I come down the drive. I'm lucky to get the door open before his paws are on the floorboard. He juts out his face; waiting for me to pat his head or scratch his ears.
I can't always take my buddy Bubba with me when traveling, but someone I always invite along is my Lord. Before starting the engine or boarding the plane, I silently ask God to be with me, keeping me, my ranch, and my family safe until I return. I realize ours is an omnipresent God, who has promised to always be with us; yet I find a comfort in His knowing I've invited Him to come with me. I enjoy knowing all I say and do is before His eyes. There is a great comfort in knowing He is with me, everywhere I go.
Do you welcome Christ to travel with you wherever you go?
Click To Tweet
In inviting Christ to come along, I remind myself of who I am traveling with, who I represent. Do I behave different because of who has come along with me? I hope not, but if that helps me remember who I am supposed to be, then I am grateful for His companionship.
God's blessings…