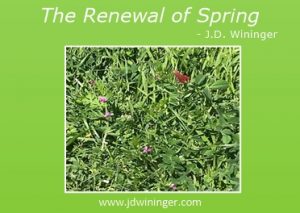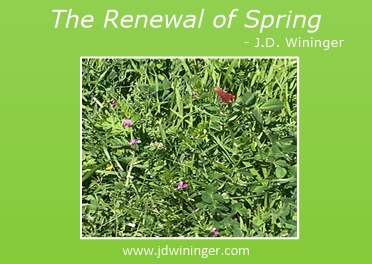 Driving from the mailbox one afternoon last month, Bubba and I stopped to note the beauty all around us. As we drove down the gravel drive bisecting our two front pastures, we could see spring was fixin' to be in full bloom. The Hairy Vetch with its delicate purple flowers, crimson and white cloud clover, native bluebonnets, and Indian paintbrush were starting to open and usher in spring. Rain, mixed with warmer weather, signals my dormant pastures to renew themselves in color. The lush, dark green grasses, the colorful blooming legumes and native plants all remind me of King Solomon's poetic description in the Song of Solomon 2:11-12 (NKJV). "For lo, the winter is past, the rain is over and gone. The flowers appear on the earth; the time of singing has come, and the voice of the turtledove is heard in our land."
Granted, the returning barn swallows with their mud nests don't bring to mind the gentle cooing of turtledoves. More, they flitter about, performing the work of building their home to prepare for soon-to-arrive hatchlings. As they sing and dive bomb the barn cats, I feel a sense of newness building up in my heart. It is that sense of renewal―the bringing about of all things fresh and new―that causes me to associate spring with my journey in faith.
Spring reminds me that just as all things in God's creation blooms and returns from their dormant winter season, we humans can do the same. While this time of year is busiest around the ranch, I still choose spring to seek spiritual renewal. A new devotional, Bible study, or more time in prayer; I use this time of year to seek spiritual growth, so I might bring God a better harvest in my fall season of life.
How does God show the spirit of renewal in your life?
Click To Tweet
Before new life emerges from my spring pastures, I have to till the soil, fertilize, and apply herbicide to prepare it for when the time to grow arrives. I must apply these same principles to my spiritual life if I want an abundant harvest. I must feed my soul with God's word, His people, and His presence. Seeking help from the Holy Spirit to bring new gifts and maturation of existing spiritual gifts, I can weed out those chinks in my spiritual armor.
With each passing year, I sometimes wonder if I've grown enough, if I've given God the best opportunity to use me in His service. Here at the Cross-Dubya ranch, some harvests are better than others. Still, each year, we sow, harvest, and prepare for the next crop―whatever that might be.
I pray this spring season brings a new sense of renewal in your spiritual and family lives. I hope you'll join me in asking God to help you achieve the growth He has planned for you this spring.
God's blessings…