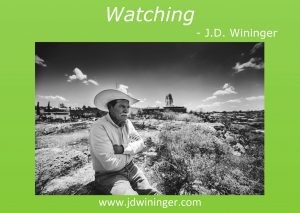 I sit atop a hill near the western edge of my property; facing east. Whenever we can, my buddy "Bubba the chocolate lab" and I steal away for a few undistracted moments with God. Often, it's after we've fed the livestock as dawn breaks over the ranch. I watch the sunrise and spend some quiet time with my Abba.
My special place in nature is where I go for alone time with God. It may sound silly, but I call it "Watching the rising sun; looking for the Risen Son." In these peaceful moments, I share my heart with my heavenly father. I give my worries, frustrations, fears, hopes, dreams, and aspirations to Him. When the world surrounds and begins smothering me, I get away, drive to my little hill, and seek God's refuge whenever I can.
How many times have I uttered these two small, yet powerful, words… "Come Lord." We grow tired of the struggles of this life at times; I think it because of the longing for home God placed in our hearts upon our creation. Solomon offers many points of wisdom throughout the books of the Bible he wrote. One of my favorite verses (Ecclesiastes 3:11 NKJV) reads "He has made everything beautiful in its time. Also He has put eternity in their hearts, except that no one can find out the work that God does from beginning to end."
When I ponder these words, I remind myself I am not supposed to know God's ways or His reasons. I am to seek His eternal plan for my life. My oft-asked question; "Father, what would You have me do that brings You glory and furthers Your kingdom?" I sometimes lament that too often my question goes unanswered in those moments. Thus, I continue seeking His will.
Where is your special place to spend time with God?
Click To Tweet
Whenever I steal away for some alone time with God, my mind recites a poem authored many years ago. I wrote these words during a troubling time in my life. I pray this helps you find the inner peace needed to allow God to touch your life.
Your Silent Strength
When daily tasks do challenge me,
When answers don't seem clear,
Your thoughts, unspoken though they be,
I always seem to hear.
As other folks, my patience steal,
Or troubles take their toll,
Your silent strength, I always feel,
It's You who makes me whole.
Your wisdom, shared throughout Your word,
Like Your presence when You're not here.
Is a force so soft, it can't be heard,
Yet I cannot help but hear.
-jdw 1/82
As I recite this, I think of words from Isaiah 30:15; "… In quietness and confidence shall be your strength…"; I remind myself my endurance, my strength, and my peace comes from God alone.
God's blessings…