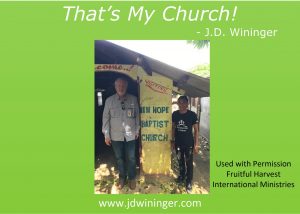 In January, my friend Mr. Charlie Sickles traveled to the Philippines to visit schools and churches he and his wife (Ms. Melba) planted years ago. Fruitful Harvest International Ministries (https://www.fruitfulharvest.net), started by our friends Charlie and Ms. Melba in 1991, is a God-honoring mission. They provide and support food pantries, prison ministries, international missions and schools, and churches. Their global Bible schools train hundreds of young Christians how to teach Christ and represent His redeeming love to others.
During his trip, Pastor Charlie shared photos of different places and people he met using Facebook. Each day, I viewed his posts to try and see "my church." No, it isn't called "JD's Church"; because it's Christ's church. Its real name is New Hope Baptist Church. Named after the little country church where my wife and I attend. Our church funded its construction following a 2014 tsunami. We are faithful servants, supporting it through Fruitful Harvest International each month.
When I saw it one morning, with Pastors Orland Ungang and Charlie Sickles standing in the doorway (photo above), I was overjoyed. Not by the extravagance of the building, but the joy found in the faces of its people. Something Christians forget from time to time is that we are Christ's church. We are His bride in waiting (Ephesians 5:22-33, Revelation 19:7). When the world sees Jesus Christ today, it does so through us.
I wonder if God has occasion to look down and exclaim "Look! That's My Church." Do we give Him reasons to be proud of us by the way we conduct our lives? As His dear children, we should endeavor to always reflect His perfect love, grace, and mercy in our lives. By learning His word and applying it to our lives, we are transformed from the inside out to become like Christ. As we undergo these changes, our thoughts and actions should reflect more the Christian person we are becoming and less the worldly person we were before our salvation.
In the years since New Hope Baptist Church in the Philippines started, they added a room for the pastor to study and live, replaced flimsy, backless benches with plastic chairs for those attending, and added fans for cooling. Most importantly, I've prayed and watched Pastor Orland and the church grow. In four years, New Hope has doubled the size of the congregation and my young pastor and friend has improved his ability to learn and share the word of God. With each change I see, I am overjoyed with how God's kingdom is growing as His bride becomes more beautiful with each day.
Like the little church in Surigao, Philippines, Christ's bride (His church) is not ornate, shiny, and polished―although it will be one day. It is, however, filled with people who are working toward this goal on the inside. For some, like me, that may require a lot more changing than others. What I am confident of is that God is patient as He works His plan to perfect and use me (Philippians 3:12). With each passing year, I pray God sees more and more of His Son in me. For when God sees me, the world sees God.
Do we give God reasons to be glorified in the way we conduct our lives?
Click To Tweet
As you move through this week, I pray you remember how each word you speak, action you take, and decision you make, represents God.
God's blessings…