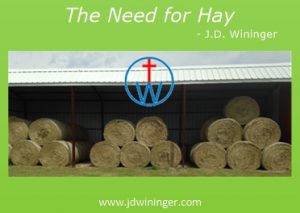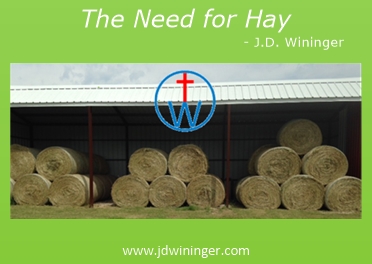 I continue learning many things about farming and ranching; sometimes the hard way. One of my latest lessons is don't sell hay until you know for certain you can meet your own needs. I don't regret selling hay this past spring to my regular customers. Nor do I regret selling it for the same price I had for the past two years. I wish I had done a better job of estimating how much I needed for my herd.
My dad taught me many years ago that profits are a good thing. They're what keeps the doors open. My dad used to say "I want to make a lot of money, but I want to get a little from everybody instead of gouging a few." Those words contained a lot of wisdom. I've always tried to apply that lesson in my business dealings. When I sell hay, I get between $35 and $40 for 6'x5' round bale. It's good quality, fertilized hay; and while I could get more, I would rather build a repeat business than have to search for customers every year. Another of my dad's adages; It costs less to keep a customer than to get a new one.
2018 turned out to be a challenging year for the Cross-Dubya. Getting little rain in the spring, and almost none in the summer, meant I got only one cutting of hay this year. With less hay from the first cutting, I should have waited until later in the year to sell, when I had a better idea of my needs. With such a dry summer, I fed hay much earlier than normal. I put out my last bale the first week of February.
I thank God for the foresight to plant mustard greens and forage collards in early fall. I also thank Him the heavy winter rains (way more than normal) have not caused too much damage to my winter rye. With a few spring-like days, the rye grass and clover are coming up. This means I've got forage to get my herd through the rest of winter without too much additional feed costs to supplement the lack of hay.
While discussing cattle with one of my writing friends (thanks Ms. PJ Gover), we discussed hay. I think it was in response to something her friend "Moo Cow" said one Monday morning. I responded "Until the rye and clover get up more, it's slim pickins' out there Moo Cow. I'm sure mama has lots of good hay for you though."
As I looked out my window, I saw some cattle milling around the pasture with their heads down, foraging. It made me think. Their foraging for something to chew on is like what we do with God's word isn't it. We forage around in scripture to find our daily bread; that specific morsel we need. For cattle, it's easy to find a tall clump of lush grass or clover. Its sweet smell attracts them to it. Finding what we need in God's word takes a little more work doesn't it?
Years ago, I would search my Bible, hoping to find something that would help me understand my question, calm my fears, or give me strength. I've become a more mature Christian (note I didn't say a better Christian, just a more mature one). As such, I've learned to use my prayers to ask God's help in finding what I need. Some call it Divine Reading. Others wait for the Holy Spirit to guide them where they need to be.
What works best for me is God's word itself. As I've hidden more of God's word in my heart, I am often led to recall specific verses to help me find the answers I need. I don't always get the answers I want, but it seems God always provides me with what I need to face each trial. Sometimes a scripture verse gives the answer I need. Other times, God uses others to provide what I need. I'm certain he used my writing friend Ms. PJ that morning to do exactly that.
How do you forage for God's answers in your life?
Click To Tweet
I pray God blesses you with amazing friends and a spirit willing to search His word and find His guidance for your life.
God's blessings…