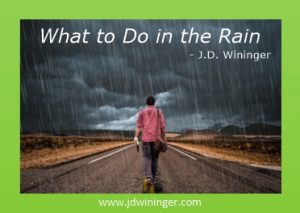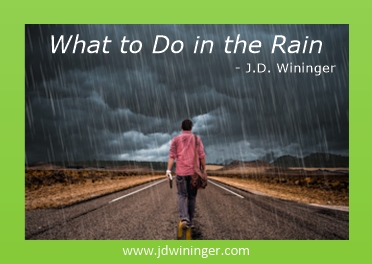 2018 was the second wettest year in recorded history in Texas; receiving over six inches in December alone. It takes longer to do everything around the farm when it's raining. Half my barn is flooded inside. I create deep ruts everywhere the tractor goes. The entire southern edge of my property is under water; and I have renamed my back yard "Lake Wininger."
I know how important rain is to farmers and ranchers. Without it, we do nothing. With it, we sometimes do nothing. Since starting the Cross-Dubya in 2013, I understand the symbol P2. I call this "the Power of Too"; as in we always get too much or too little rain. P2 controls much of what we do on the ranch. Want to put out fertilizer this week? Too bad; there's no rain for another fifteen days. Need to plant in the next seven days. Not a chance; fields are under two inches of water.
Still, rain affords us time to repair things (inside) and prepare for the next outdoor task when the weather clears. There's always something needing maintenance. On our little ranch, I average twelve oil changes per year. In that time frame, I grease about six hundred fifty zerks and recycle about thirty gallons of oil. How many of you knew that's the proper name for a grease fitting? Now, for extra credit, who is its inventor?
Sometimes I get lucky and it rains long enough to get some down-time. The question then becomes one of what do I do with it? When I can, I grab a nap or six to catch up on sleep. Other times, I read, write, or study. There's always those "Honey Do" jobs Diane reminds me are still awaiting my attention.
God created rain to help His creations grow. I wonder if He created rain so some of His hardest working creations, farmers and ranchers, could get a break. Rain gives me the opportunity to do many things. In fact, I'm writing this post while it pours outside. I gaze out my den window, watching raindrops create ripples in the large puddles dotting my front yard and two front pastures. I guess it could be worse; the weather man advised a chance of snow.
When it rains, we are given an opportunity to prepare. We can prepare for more work or we can prepare our hearts and minds for some future challenge. In John 16:33, Jesus ensured His disciples "… in this world, you will have trouble." Since God knows we will all face trials and tribulations in our lives, then doesn't it make sense He gives us opportunities to prepare for them. When presented with the gift of a little down-time, I pray you'll remember it's a great opportunity to prepare to help yourself and others.
Do you take advantage of every opportunity God gives you?
Click To Tweet
God's blessings…