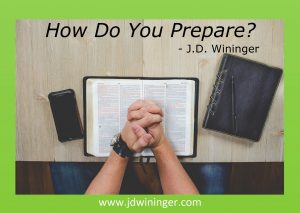 Do not define a writer as someone who earns a living by writing. This definition might fit an author—someone whose creative work has been published—but even that is a stretch. I began writing before I was ten years old. Making an income with my writing didn't happen until in my twenties. Earning a living through writing occurred after that. I define my writing career with one word; preparation.
The Christian writing journey I'm on is repayment for God's gift of writing talent. I view my years of professional writing as preparation for today's efforts. It took years of preparation to learn the importance of "phraseology", so words achieve maximum impact with readers. Applying proper syntax and grammar rules seems to be an endless learning opportunity. I am certain of this; writing of any kind requires significant preparation.
As a technical writer, I spent more hours reading functional specification documents and computer code than writing instructions on how to use the equipment or software. For every ten pages of a technical manual, I spent about fifty hours researching, testing, and preparing to write. As a Capture and Proposal Manager, I learned the importance of interviewing and working with subject matter experts (SMEs). I helped them write about complex designs in such a way that a layperson could understand the technology and the benefits derived. Again, I spent much more time preparing to write than actual writing.
Whatever type of writing I do, a key to its success is how well I prepare. The more time spent preparing to understand, learning how to apply it, and learning how to best present it, the more effective my writing becomes.
The result of any effort is in direct proportion to the quality of your preparation.
Click To Tweet
I am learning that writing Christian nonfiction requires even more preparation than technical manuals or million-dollar proposals. There are two common items needed for all my writing. All require effective preparation and my reliance upon SMEs. The question becomes, "How do Christian writers prepare and where do they turn for expert advice?" The answers are easier than you think. Prayer and Bible study are the best sources to prepare me for the task God has called me to perform.
Before I touch my keyboard to write, I pray. Not for ease of wording, a larger word count, or publishing success (however one might define that); but for guidance. I ask God to guide my words so what I write pleases Him and serves whatever purpose He has for it. A common request, often as I am writing, is to give me a deeper understanding of a topic so I might better help others.
In trying to improve my understanding of a scripture verse or parable, I turn to its source. While important to read my Bible daily, when I prepare to write about some biblical principle or concept, I do more than read. I study it. My SMEs in this arena are often the writers of scripture themselves. Other times, I use Commentaries, text books, and other sources to gain a better understanding. When using any sources other than God's word, I always validate my understanding against His word. My greatest SME these days is the Holy Spirit.
I pray my preparation for my current writing creates great dividends in heaven, for it is for His glory I write. I hope you also come to understand the importance of preparing for everything you do.
God's blessings…