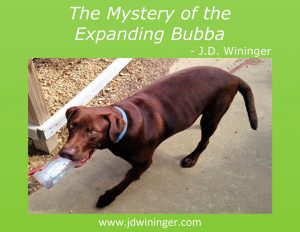 Over the past few months, I've noticed my buddy "Bubba the chocolate lab" has experienced significant weight gain. A little back story; Bubba was a beautiful, collared, chocolate Labrador retriever puppy we think someone abandoned near our home. He wandered upon our friends' ranch one day, and after weeks searching for an owner, he became our new farm dog.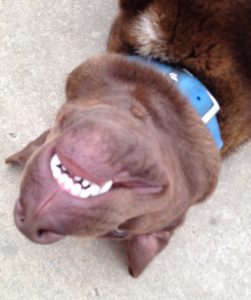 The unique thing about my friend Bubba is as much as he enjoys getting a treat, he much prefers to lie on his back while I scratch his tummy. He's the only dog I've ever known who smiles at me when I give him a tummy rub. You haven't lived until your friend rolls over, throws their legs in the air, and gives you a huge smile. It's a beautiful sight.
These days, Bubba is my constant companion when working outside around the ranch. He climbs on my ATV and rides as we feed; making sure he always gets underneath my right arm (he likes hugs too). Bubba follows my tractor around when putting out hay, planting, or other tasks. He's an explorer, but mostly stays within the confines of the ranch and its pastures and out buildings. When new neighbors moved in and brought their two dogs, Bubba discovered new friends to visit.
After morning chores, Bubba often slips under my northern pasture fence and makes his way across the field to our neighbors. They're a wonderful and kind couple, and always welcome Bubba. Their dogs, Clue and Sparky, visit and play with him for a few minutes and then he comes home. If he's ever not at my feet when I come out, I know to call him from the neighbor's house. He perks his ears and runs home when I call, sometimes.
Not too long after our new friends settled in, I noticed Bubba was gaining weight. Thinking I was over-feeding him, I cut back on the amount of feed provided each day. Even though he's active, I also reduced his treats. Still, he was increasing in size. It was a mystery why he was eating less yet gaining weight—until about a month ago.
When visiting with my neighbors one Saturday morning, they mentioned how they love when Bubba comes to visit. However, and they chuckled as they shared this, they've noticed he comes and visits on their front porch for a few minutes. He then nonchalantly finds his way around to their back porch. That's when I solved the mystery.
I remembered that when my neighbors were away for a week, I had taken Bubba with me to check on their dogs. In doing so, my astute friend took note that his dog friends have a self-feeder system on their back porch. Whenever Clue or Sparky would nose open the flap at the bottom-front of the metal feeder, dog food magically appeared. Dogs are apparently more intelligent than I am as Bubba figured this out long before I did.
My neighbor confirmed whenever Bubba comes to visit he finds his way to the back of their home and helps himself to his friends' dog food. I wasn't feeding Bubba too much; he was helping himself to a few extra meals a day! I haven't stopped him, but have cut back on the feed he gets here on the ranch. This reminds me, I owe my neighbors a large bag of dog food.
I've solved the mystery, but not the problem yet. I thought about our own worldly habits and how we too can do a better job of self-control. Two examples of my self-control issues are Ms. Annie's coconut cream pie and almost anything Diane makes in the kitchen. She's a culinary genius; I'm living proof, as I was a size 34 waist when we married.
Like my friend "Bubba the chocolate lab", I too have weak spots. I obsess and sometimes overindulge. In my case, I'm grateful God knows I will never be perfect while in this world; yet He is faithful to help me improve and become more like His Son. My question today…
What things in our lives do we obsess over or overindulge in?
Click To Tweet
God's blessings