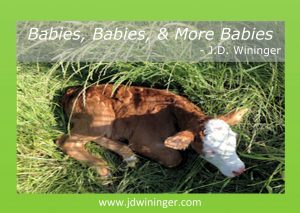 Calving season started late. Desiring fall calves, I get winter calves as it was almost February before breeding began. This year, calving season at our Cross-Dubya ranch began on Thanksgiving Day with a little heifer we named "Giblets." We've had other calves, but there's always something special about the first one each year.
Anyone who has ever worked with livestock knows calving sometimes comes at a high cost. This year, I destroyed a bull calf unable to sustain life on his own shortly after his birth. I have a sixty-day breeding window for my cows; followed by a nine-month gestation. When something goes wrong and you lose a calf, you have lost a year's worth of feed and care with little or no return. Worse yet is when you not only lose the calf but also the mama. There's a saying among longtime ranchers here in Texas, and maybe elsewhere. If you haven't lost one yet, you're fixin' to.
Through it all, I focus on the positive. When bad things happen, I lament them, but I thank God for the many more good things that happen in my life. I have far more healthy calves than sick ones, and for that I praise God each day. I watch the new mamas and their calves. The cycle begins again in a few months.
Sadly, some of our babies never make it to maturity. Their life cycle gets interrupted. I think how this cycle of life continues in our world and wonder how it relates to my writing. In ways, the books, devotionals, and articles I write also experience a life cycle.
I start with a thought or idea, the give it lots of prayer and more thought until a storyline develops. Then we write drafts and set them aside to mature and then massaged more. More research, analysis, prayer, and edits applied. In time, we write and submit query letters and book proposals.
Upon acceptance, the next growth stage of our baby begins. With each stage, the manuscript takes shape. When we apply enough polishing and care, we introduce our word-child to the world. With the right care and feeding—in the form of marketing, promotion, etc.—they take their place in the world.
Calves, barn cats, or books, our babies each have a unique place in this world. Some will impact the world; others have minimal impact in their local community. Still, others will impact lives in ways that are only know in heavenly places. I pray whatever you birth; cow, lamb, child, idea, or book, it reaches full maturity and brings glory to God through the care and feeding you put into them.
Until Christ's return, the cycle of life continues. Each of us impacts other lives. What kind of an impact are you making?
Click To Tweet
God's blessings…