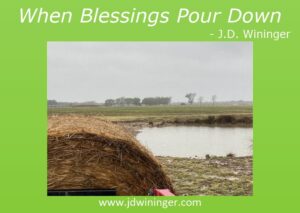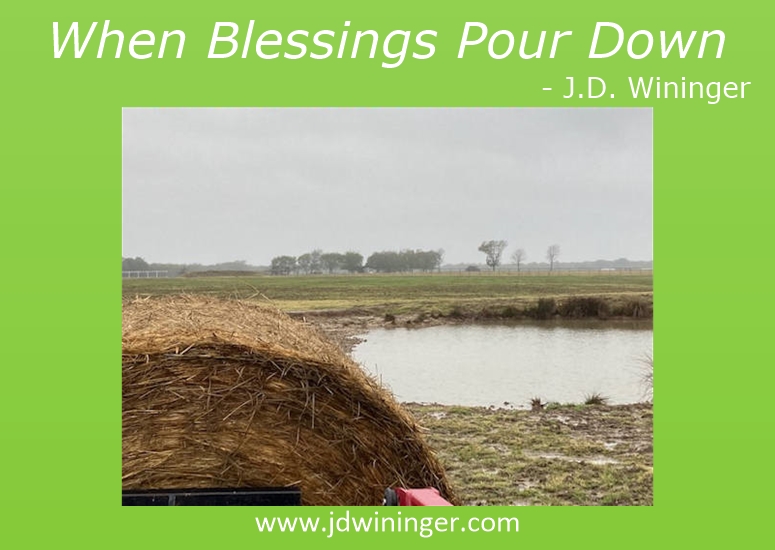 The air was saturated as the old rancher carried another bale to the livestock he so selflessly cares for. He wondered, would there be enough hay to make the winter? He sold off as much of his herd he could to survive the long drought and anticipated drier than normal winter. How am I going to make it Lord? Of course, with Your help Father.
As he moves into the west pasture, he peers out over the large round bale to survey God's handiwork before him. Even through the fog, he could see the puddle-laden pasture teaming with new growth. With a mixture of sunshine, cool temperatures, and ample rainfall, the ryegrass was sprouting forth. A green hue was taking over the once brown and bare pastures. Glancing to see what effect four inches of rain had on the depleted pond, he pondered, what happens if the grass doesn't last and the water runs out. He realized that without the winter forage and more rain, he would not survive another year as a rancher. A salty mixture seeped into the corners of his mouth, jolting him back to the present.
God was here with him on this wet, foggy morning. The heavy air was permeated by tears of joy and celebration as God displayed His blessings before the old rancher. God was refilling his parched soul to overflowing.
Yes friends, that "old rancher" was me the day after Thanksgiving. I suspect we all have times when the trials of this life begin to weigh us down and our joy level dwindles. After struggling to survive a long drought that began more than a year earlier, its wear on my soul was starting to show. As rampant inflation has impacted every American adult, the agricultural community has been hit especially hard. A 35 percent increase in costs without any income increase is hard to absorb for retirees. I was realizing that I had much bigger worries than financial ones. My Faith Tank, which runs on the joy, hope, and love of God, was emptying out a bit more with each challenge faced.
Does your "faith tank" ever get low? How do you refill it? #FaithOfAFarmer #GrowingInFaith #CrossDubya
Click To Tweet
Oh, I continue to stand on God's promises that He will provide what I need. My problem is that sometimes what I think I need and what God thinks I need are not the same.
That's when the Holy Spirit prompts me to take a step outside myself and look at the situation through His eyes. As I did that while sitting atop the tractor, He showed me all the ways He is providing for me, my family, and the ranch we love. Yes, the Cross-Dubya was dedicated to Christ, and we continue endeavoring to put Him first in everything we do. With the rains coming in October and November, God prepared the ground to be fertile enough to germinate seed for winter forage. And while our pond is still well below its normal depth, the amount of water stored there has almost doubled from its previous level in two months.
Looking out at the bounty of blessings before me, I felt that familiar heart hug as God showed me how He is caring for His child. As I basked in the glory of His presence with me in this field, the cup of my soul was being over-filled yet again. This happens whenever I spend intimate time with my Creator God. I'm always amazed at how my thought of praise towards Him becomes an open invitation for Him to come sit with me. I think it's because He's already there inside me, waiting for me to turn my thoughts to Him instead of the world I'm too often immersed in.
God always stands ready to meet with us when we invite Him with praise. #PraisingGod #AlwaysThereGod #HeartHugs
Click To Tweet
As so often it does, when I am in God's presence and wrapped tightly in one of His heart hugs, tears flow. Are they the overflow of joy as He refills my cup? Perhaps they're the release of sorrow and lament as He redeems my life. I prefer to think of these tears as God is squeezing the world out of me. My prayers for you are that you too enjoy the elation and joy that comes from being in the midst of God's loving embrace as you spend time in His presence.
God's blessings,