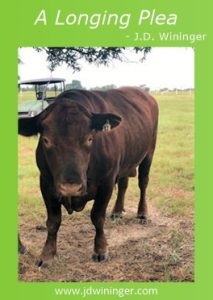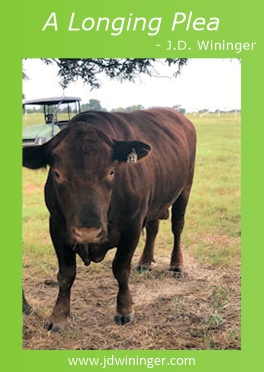 An interesting trait among Red Angus cattle is that they are some of the noisiest around. My herd bull "Mavric", a registered Red Angus with amazing EPDs (Expected Progeny Differences), is a prime example. As the only bull on the Cross-Dubya, "Mavric" is normally a very happy fella. But when all his ladies are pregnant or no longer experiencing estrus, he tends to become both nosey and noisy.
As the herd bull, "Mavric" does a fine job of keeping his harem together; and keeps close watch on everyone in his herd. Late last fall, my neighbor on the western edge of my property turned his herd loose directly behind mine. With a shared fence and all my cows pregnant, the new female neighbors became a real source of distraction for "Mavric". I'd often hear him long before I'd spot him either walking back and forth along the fence line or standing atop the hill in hopes the ladies would notice him. His loud bugling can be heard for at least a mile I think.
Of course, not only did it draw a new bunch of cows to the fence, it also brought my neighbor's Hereford bull. After repairing the fence to separate the clashing behemoths a few times, heavier electric fence wire seems to have done the trick and a truce was achieved. Still, that didn't keep "Mavric" from calling out in hopes of attracting a new female companion.
I couldn't help but laugh at his pleading cry, as though I could almost hear him crying out "Oh girls. I'm right here ladies. See how handsome I am. Look, no horns!" When I would go visit him, he would look at me and offer a low moan. It was like he was saying, "But Papa, why won't they come visit me?" After a treat and some patting, I'd encourage him to go back and be with his herd.
Once, while he was being especially loud, I swatted him with a butt bat and told him to go take a cold shower. He moaned at me, but grudgingly walked off the top of the hill. With a little prodding, he walked across the pasture and directly into the pond, where he soaked his sorrows for a couple of hours.
It's when I move him to another pasture, away from his herd for a few months after calving season, that his cries change. He still calls out for his girls, especially when he sees them in the other pastures demonstrating estrus. The difference in his cry is most noticeable at night. With the donkeys on patrol against predators, my cows are pretty quiet at night. Mamas and babies stick close together; and my yearlings and "Mavric" are safely tucked away on the other end of the barn.
While "Mavric" is never by himself, when he's separated from the majority of his herd, he cries out all through the night. Not his typical "Hey girls" bugling, but a longing cry that seems to say "I'm here girls, I want to be near you; to protect and care for you but Papa has me in lockdown. I miss you so much." I know he is separated for a good reason, but the way he stands at the gates and fences and cries his longing cries almost breaks my heart. Of course, I'm never happy when I find he's broken through a heavy chain to get through one of the gates to go visit his ladies.
I've been thinking lately about how often I cry out for God with that same longing? The questions I ask myself range from why do I feel so separated from Him to why can't I seem to be able to do anything without Him? I also wondered, what do my longing cries look and sound like to God. Crying out for God is something demonstrated throughout the Bible. David, Moses, the Prophet Elijah, Job, and many others, including Christ Himself, give us examples. In its most simple form, crying out to God is done in the form of our prayers.
How often do you cry out for God?
Click To Tweet
It is in crying out for God that we express our dependence upon Him. Is God moved when we cry out for Him with our prayers? I think so; but I also believe God sees and knows our hearts, and responds in kind. For example, are we praying because that's what Christians are supposed to do; so we're going through the motions? Are we asking for the things we want God to do for us without ever asking what God wants us to do for Him? Many Christians today view prayer as unidirectional, rather than being a two-way conversation with God. Too often, we pray give me, not guide me.
Whether we seek Him in prayer with a contrite, repentant heart, asking His forgiveness or with praise for blessings in our lives, He listens to those who are genuine. God listens to those who cry out in earnest, longing for His presence. Our prayer goal should be allowing our prayers to create that sweet-smelling aroma (Psalm 141:2) as we come to Him with praise and petition.
God's blessings,

Please join me each Thursday evening at 9:30 Eastern as host Coach Mark Prasek and I take a trip Around the Cross-Dubya on PJNET TV. We discuss this week's blog post, offer insight about the lessons learned, and enjoy the fellowship of friends in the live chat room.