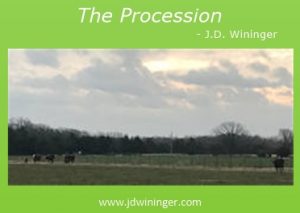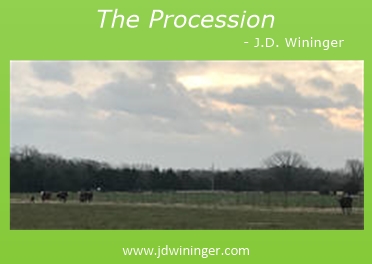 On February 4th, God reminded me of a truth that touches every farmer and rancher in the world; "If you ain't, you're fixin' to." What does this adage refer to? Death, grief, and loss. Whether it's livestock on a farm or a family member, we will all experience these things while on this earth. On this morning, in the pre-dawn hours, God called a premature little heifer calf home. I call them "angel calves"; as I prefer to think God adds them to His majestic herd immediately.
Just the evening before, we celebrated as "Frances", the little calf's grandmother, gave birth to a healthy little gal we joyfully named "Carolina"; in honor of Ms. Diane's little sister. I mused the day before how "Uno" and her mama ("Frances") were locked in a turtle race, as it seemed both had been showing signs for weeks. "Frances" won and "Uno" lost; in many ways.
As I entered the west pasture to feed the mama cows, I noticed that "Uno" wasn't joining the rest of the herd. Thinking she might be in labor as she stood atop the bed of hay stubble, I went to check after feeding the others. As I approached, I spotted the little calf (maybe 30 lbs.); prone and eternally resting. In what looks like a birth that was a month premature, the little calf just hadn't developed enough to survive life outside the womb.
I confirmed its condition, closed her eyes, placed my hands on her, and prayed. "Father, welcome this little angel into your herd. Help her grow strong and vibrant in Your eternal care. Please bring Your comfort to the mama she left behind."
Loading her onto the floor of my UTV, hearing her mama cry out behind me broke my heart. Animals grieve; and I'll debate with anyone but God whether they have souls. Do animals have an eternal spirit; one transported to heaven by the Holy Spirit, like those of us who die in Christ? I don't think so. But do animals have a soul—capable of emotions and feelings? Absolutely. The inspired words Solomon wrote in Ecclesiastes 3:18-21 are part of the basis for my beliefs.
"I said in my heart, 'Concerning the condition of the
sons of men, God tests them, that they may see that
they themselves are like animals.' For what happens to
the sons of men also happens to animals; one thing
befalls them: as one dies, so dies the other. Surely, they
all have one breath; man has no advantage over
animals, for all is vanity. All go to one place: all are from
the dust, and all return to dust. Who knows the spirit
of the sons of men, which goes upward, and the spirit
of the animal, which goes down to the earth?"
(Ecclesiastes 3:18-21, NKJV)
Yes, man is superior—made in God's image, with dominion over all the animals—yet, animals live, die, fear, hunger, feel joy, and grieve loss just like we do. In my mind, that dominion comes with a price. When God places an animal into my care, I work extra hard to treat His living blessing with dignity and respect. Proverbs 12:10, Isaiah 40:11, and Proverbs 27:23 guide me in my care. I pray it shows in the way they're watched over, cared for, and yes, disposed of when that time comes. With a dead calf or cow, this means burial to ensure it can return to dust in peace without desecration by scavengers and predators.
As I went about the job of burying the "angel calf", my lesson in extending grace arrived. During the process, I noticed how all the other cows and calves in the herd walked over to be with "Uno." As I was heading back from the pasture, the herd surrounded "Uno" and walked over to the spot where the calf died. I stopped and shut off my tractor; watching. Each cow lowed out something the rest of the herd seemed to understand. Then, one by one, they turned and formed a procession (see photo above) that led into an adjoining pasture; leaving the grieving mama alone.
As mama resumed her cries for her calf (much like the sounds at weaning, when we take their six-month-old away), I restarted the lonely journey back to the barn. I knew the grieving process, mostly unanswered cries for her missing calf, would continue for several days. What I didn't realize was that her grief was only just beginning.
Emerging from the house a few hours later to check on the other expectant cows, I wasn't surprised to see "Uno" still standing atop that hay stubble. She was calling out to me as my cows sometimes do, so I stopped to pay her a visit. As I began walking toward her, she became agitated and took a defensive stance. Approaching with caution, I soon understood why. At her feet was another "angel calf." Twins! The second set to be born on our ranch so far this year. Watching mama closely, I walked over and kneeled down to examine the tiny little calf. With similar markings, I noted this was a bull calf, which is typical of twins (80% of twin births are one of each gender).
"Oh, mama; I am so sorry honey." I reached to console my grieving cow, but she couldn't allow it; knowing what I had to do next. As I loaded her second lost calf of the day into the back of the UTV, the herd replayed the earlier process. This time, I couldn't hold back my own tears of grief. There was a time when I would lash out in a mixture of pain, anguish, and frustration. As I spend more time with these animals, God is teaching me how my energy is much better spent understanding the cause (when I can) and learning from it. The most difficult ones are the instances like this where we may never understand.
We can't always understand why God allows things to happen; we can accept that He does.
Click To Tweet
The lesson I took away from this hard day is that even though we can't understand why God allows what He does, we must accept His will. As much as I would like, I can't know how He will use this as our future unfolds. What I can do is accept that He is God, and I'm not. My end of this deal is thanking Him for His mercy, comfort, and grace, and continuing to praise Him in all things. For this is the exercising of our faith.
God's blessings,

Please join me each Thursday evening at 9:30 Eastern as host Coach Mark Prasek and I take a trip Around the Cross-Dubya on PJNET TV. We discuss this week's blog post, offer insight about the lessons learned, and enjoy the fellowship of friends in the live chat room.