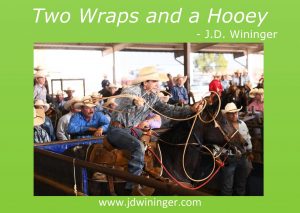 A few Sunday's ago, I was blessed to bring the morning lesson at our small country church. Doing my best to stand-in for our pastor; I often feel ill-equipped to share my views on God with my brothers and sisters in Christ. When I sense Satan attempting to tell me how inadequate I am, I remind myself that I am fearfully and wonderfully made by God (Psalm 139:14). God made me for His purpose, for this time. If God believes in me enough to entrust me with His word, then who am I to doubt that?
As some of you know, my wife Diane and I live in northeast Texas; right smack in the middle of cattle country. In our region, many high schools have Rodeo teams that compete, and some of my neighbors are champion ropers, and bronc or bull riders. Rodeo isn't always the smartest career choice, but life should be an adventure, right? Even the little girls in this area can rope and ride with the best. In my neighborhood, my little friend Miss Kerstin Freeman and her brother Garrett spend countless hours practicing and competing in various events. They often make the "Short Go" rounds and take away coveted buckles and other prizes. Recently, my young friend Garrett placed in the State Finals as part of a heralded calf-roping team. Here's two photos of these amazing young people in action.
Miss Kerstin is a champion roper and barrel racer.
Her brother Garrett is a tall drink of water with a gentle, slow-talkin' Texas drawl that is almost melodic.
I've never met more well-mannered, well-behaved, and kind young people as these two. They reflect all the goodness, love, and lessons poured into their lives by their parents.
Introducing my sermon, I used a long piece of rope to represent the "timeline of eternity" and how short our human life is in comparison (thanks Pastor Francis Chan, I borrowed your idea). As I coiled the rope in my hands, I looked over and saw my friend Mr. Sam Tippit. Like most folks around here, Sam and his father-in-law, Mr. Carl Reel, have experience with cattle. I suspect these two gentlemen have attended, and took part in, more than a few rodeos.
I'm not sure where this came from but as I looked at Mr. Sam, I exclaimed "Well, this ain't no piggin' string, but let's see if we cain't get two wraps and a hooey on ol' Satan this mornin'." (Y'all didn't know I can type in Southern did ya?) This brought many smiles and a few laughs.
Two wraps and a hooey is a rodeo term, denoting the most effective way to immobilize three of a calf's legs. For my cowboy friends, this put them at ease; and I hope opened their hearts and minds to hear the message God led me to share that morning. For my non-rodeo friends, what I meant by this is "Let's bind Satan with God's word so his attacks against us this morning are useless."
My lesson wasn't on how to defend against Satan's attacks. I believe any time we focus on God and His word, have effective prayer, and we are in fellowship with other Christians, we shoot arrows in Satan's direction from the rhema of God's word. When doing so, we tell Satan to back off with spiritual authority.
What methods do you use to tie Satan up in knots?
Click To Tweet
There are lots of ways to defend against Satan's attacks in my life. The best three are prayer, the study and application of God's word, and fellowship with other Christians. I think the later proves most effective because I know I am not alone in the fight. I have wonderful Christian writing friends, family members, and others that make up my Family of Faith. When I am under attack, I share my need with them and together we prayerfully storm heaven's doors with my request.
Please always remember you are never alone when Satan attacks. The Holy Spirit is within you and available to bring the power and authority of God to bear upon your earnest request. When you have a prayer request, know you can always reach out to me at author@jdwininger.com. I'm never too busy to stop and pray with a dear friend.
God's blessings,