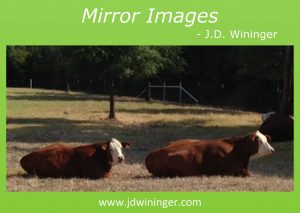 Last fall, I took a photo of Frances (aka "Baby"; and yes, Diane loves the movie Dirty Dancing) and Uno, the first calf born here on the Cross-Dubya. As they lay together on a sunny afternoon, it struck me how much mother and daughter look alike. With the exception of being two and a half years apart and which ear their eartag is in, there's little difference. At eighteen months old, the daughter is a mirror image of her mama.
Like Frances, Uno is a gentle cow who, while skittish, is easy to work around as long as you're slow and deliberate. Neither is pushy or bossy, and they get along with everyone else with their calm demeanor. I'm praying, as Uno's bred the first time this year, she has calves with those same traits.
When Prancer, Frances' second calf, was born in December, Uno was "Mama's not-so-little helper." She helped the little calf find her way around, taught her where to go for safety and to find water, and always kept a watchful eye as their mama rested or fed. It was almost funny to watch how Uno would maneuver herself to ensure she stayed between me and her little sister.
Thinking about how much mother and daughter are alike, the fruit of the Spirit came to mind. Reciting Galatians 5:22-23 to myself, I thought about how the Holy Spirit has helped manifest these and other gifts into my life, each in varying degrees. I have more godly love than before. I try to always be kind to others; and I pray for more patience and self-control each day.
Nearing New Year's Eve, I reflect upon the past year to identify where I've grown in each of these areas. The fruits of the Spirit show me the character traits that Jesus Christ exhibited during His time on earth. If I can see even a little growth in each area, then I am satisfied that I'm "staying the course" and living in God's will. If not, then I ask God's help to correct my course and lead me back to the path He wants me on.
Can you see where you are taking on the traits of our heavenly family?
Click To Tweet
I accept that while I remain human, and bound to this fallen world, I will never attain the perfection that God's word promises me. Upon my completed glorification, I will be made fully pleasing and acceptable to be in the presence of God. Understanding perfection will never occur during my human life makes it easier for me to defend Satan's attacks, doubting my worthiness to serve God. I don't have to be perfect; my brother, Lord, and Savior paid that price for me.
I pray we become more like Jesus, our brother who sits at the right hand of God, with each passing day. When I mess up, which is often, I like to think my Savior is sitting there saying "It's okay Abba, he's family and we'll make it right soon. See… he's bowing his head now."
God's blessings…