I try not to get too political or rant too much these days; I find it's not good for my blood pressure and inner peace to dwell on these things. It broke my heart a few weeks ago while driving to a Veteran's Administration (VA) facility and I can't let it go. When that happens, this writer finds it helps to put it onto paper. Please indulge me.
I've never liked the fact that I must drive almost fifty miles each way to a VA medical treatment facility. Given God placed my family a good twenty minutes from anything resembling a proper city, I've learned to live with it. The one saving grace of that drive has always been the view. Winding back country roads, gentle rolling hills, and lots of fields and pastures. For many years, the three most common sights on my drive to Bonham, TX were cotton, corn, and cattle. That's changing.
The serene photo above will be the last time I can look across this valley, north of the town of Ladonia—with a bustling population of less than 700. I no longer find cattle grazing here and will never again see hundreds, perhaps a thousand, large round hay bales waiting to be collected and stored for winter feeding. In a few years, the valley will be underwater.
The state purchased many small, family-owned farms and ranches in the area, at what I'm told was "top dollar", so they can convert the land into Lake Ralph Hall. For those of you who might wonder, the late Mr. Ralph Hall served in Congress from 1981 to 2015. He died in 2019 and will be memorialized by Texas' 4th congressional district with the newest water reservoir and dam. The project will span nearly 8,000 acres and hold some 59 billion gallons of water.
When completed (estimated 2026), it will deliver some 54 million gallons of water per day (MGD) to residents of Collin and Denton counties, which I consider northern suburbs of Dallas. Of that 54 MGD, it's estimated that 35 MGD will be raw water. This is water diverted from the Sulphur River and other groundwater sources that serve our rural communities to the north and east of the Dallas area.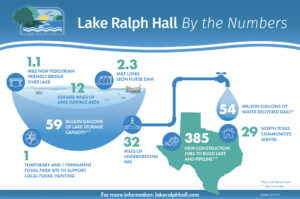 While the UTRWD touts the project's economic benefits, its need to serve the growing population density in the areas surrounding Dallas, and environmental conservation claims, this old rancher wonders. I wonder, what about the farmers and ranchers surrounding this area? With other reservoirs in our area already supplying Dallas, how much more water will they divert from our farms and ranches so city dwellers can keep their swimming pools full? I wonder, how could that water (if not diverted) benefit the drought-stricken land they will rob water from? What happens when "progress" takes so much of our farmland that we become unable to feed and clothe America?
Perhaps what bothers me the most is how I see the lifestyle I have grown to cherish and respect being eroded away in favor of what others call progress. Seems to me that an important part of biblical stewardship, caring for God's creation (Genesis 1:28-30 and 2:15), is being subverted in the name of urban sustainability.
What the world calls progress seems to be exactly the opposite of what God considers it to be. #IsItReallyProgress #GodOpposed
Click To Tweet
When I look at the world today, I see pandemics, wars, hatred, perversion, and greed at levels I once could have never imagined. I see technological advances such as artificial intelligence that, while meant to make man's life easier, may lead to even more confusion and deception. All of this is called "progress." What the world calls progress, God's word calls deception. I believe progress in God's eyes is growing closer to Him and becoming more like His Son, Jesus Christ. It seems the world is racing in the opposite direction.
While it's too late to further oppose this project, my sense of sadness comes from recognizing that many American families have lost their legacy of farming and ranching. An already dwindling industry will suffer more losses in the name of progress.
More than any other, becoming a rancher has taught me to rely on my faith and seek a closer relationship with God. Why? Because everything farmers and ranchers do is done in faith. We plant with the faith that God will bring needed rains. At times, we'll stay awake all night caring for a sick calf, knowing that God's will is that we be good stewards of His blessings. We lift Him up in praise for a good harvest, and we bow down to Him in humble acknowledgement of His sovereignty when it's not.
I recognize that as the rural lifestyle gives way to better-paying jobs and more convenience in the big cities, people will suffer for their choice. It seems the more densely populated an area becomes, the more problems in life arise. Crime, pollution, waste, and haste take the place of peacefulness, serenity, and safety. Rural living is a way of life that brings people closer to God. Perhaps that's because we have more time to seek Him and He's easier to find. We find Him in the natural creation around us and see Him in the hearts of more people in our rural, agricultural-based communities.
Being a caretaker of the land and livestock God has entrusted to me is perhaps the most satisfying job I've ever had. #Stewardship #FaithOfAFarmer
Click To Tweet
As I watch the world around me becoming a tinderbox of violence, hatred, and greed, I'm reminded that this is no longer my world. I may be in it for just a while longer, but praise God, I'm no longer a product of it. And while I can't stop this world from reaching God's ultimate plan for it, I can pray God uses me to help others find their way out of it.
My prayer for you this week is that you can find the source of peace in your life that this world cannot steal, kill, or destroy.
God's blessings,