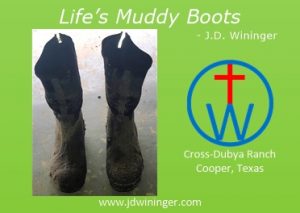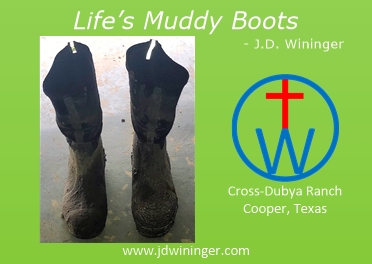 God most definitely has a sense of humor. I think it's His way of reminding us He controls everything in our lives and we should humble ourselves. After posting a photo of what happens when new white socks meet feedlot mud, I promised my friend Mrs. Melinda Eye Cooper I would write this post. Ms. Melinda; this one's for you ma'am.
Working around our Cross-Dubya ranch, there are moments when I think I can almost hear God leaning over to His Son and saying; "Hey Jesus, watch this!" There goes my muck boot again. About that time, heaven erupts in laughter. What do you do when that happens? You laugh too; cause that's funny right there!
After a winter or spring rain, the mixture of saturated clay-based soil, excess water, and other things the livestock leave behind in my feedlot makes a mess. These elements combine to create a quicksand of mire and muck that will literally suck the boots right off your feet. You know the ground is slippery and soft, so you tread lightly. What you can't see is where the mud has given way and liquefied the ground beneath the surface. When you step into one of those spots, you're in trouble. Sinking ankle deep, or more, the ground swallows your foot. The mud's hydraulic action creates a vacuum-like seal around your boot; and as hard as you try your only chance for freedom is extracting your foot from your boot.
This decision leaves you with a nasty pair of socks that your wife won't even consider washing. You're also left with smelly feet she makes you wash off before you can come inside. At least though, you can go back later with a shovel and retrieve your boot. And now you know why farmers and ranchers have at least two pairs of boots.
Sin works along the same principle as feedlot mud.
Click To Tweet
Sin works the same way. It sucks us in, and pulls us under when we don't pay attention. Something I've accepted in this life is that I will always sin. Like Paul in Romans 7, I wish that I would not sin, but accept that I (as man) am a slave to sin. As a born again child of the King, however, my sins are forgiven as long as I confess, repent, and ask God's help to keep me from repeating this sin. Like the feedlot mud, it's when we fail to apply to healing balm of forgiveness to our spiritual lives through 1 John 1:9, that sin can begin to liquefy our souls. Our once-thought solid path becomes treacherous.
In the same way we can remain stuck in the feedlot with our boot stuck in the mud, our spirit can become stagnant if we don't extract ourselves. Each time we fail to come clean, a small stain of sin remains upon our soul. As these build up, we find it becomes easier and easier to slip into that sin again. Thus, the quicksand of un-repented sin traps our spiritual lives.
Please note that I wrote, "I've accepted that as man, I will sin." This isn't saying sin is acceptable—it never is. What I mean by this is I've made peace with that fact ;and I'm not going to allow Satan to fill me with shame every time I mess up. Instead, I choose to extend the gift of grace to my own life. Yes, I must extract myself from the sin and allow God's forgiveness to cleanse me; but I do not have to pass judgment upon myself with every failure.
Instead, I must choose to be the baseball pitcher who serves up a grand slam pitch. I shake it off and resolve to go after the next batter with all I've got. At the end of each prayer of repentance, I remind myself of the words of David in Psalm 40:2.
"He also brought me up out of a horrible pit,
Out of the miry clay,
And set my feet upon a rock,
And established my steps." (Psalm 40:2,  NKJV)
I pray each of you remember that God intended us to share the grace He gives us with both others and ourselves. Make room for grace in your life by remembering that Christ's gift of salvation is the solid rock upon we can stand firm in our faith.
God's blessings,

Please join me each Thursday evening at 9:30 Eastern as host Coach Mark Prasek and I take a trip Around the Cross-Dubya on PJNET TV. We discuss this week's blog post, offer insight about the lessons learned, and enjoy the fellowship of friends in the live chat room.